Chinese OEMs plan their expansion in the U.S.
3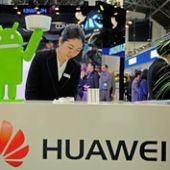 Taiwan's
HTC
was recently a relatively unknown OEM, whose devices were only branded by the carriers that sold them. But that changed, and HTC has become one of the most powerful brands in the smartphone industry. And Chinese manufacturers like Huawei and ZTE are looking to follow suit.
According to the
Wall Street Journal
,
ZTE
hopes to quadruple their global smartphone shipments to 12 million devices in 2011. And one such model is reportedly destined for a top-tier U.S. carrier.
Huawei
, the other major Chinese OEM, says that they are in talks with all 4 major U.S. carriers.
And while their quality is steadily improving, cost will be the major motivating factor for adoption in the U.S. Carriers are eager to get customers on the more profitable data plans, and cheaper devices will make those plans accessible to a wider audience. ZTE's Lixin Cheng says that they will attempt to prominently tie their brand with the unknown device bound for a Big 4 carrier.
Particularly on prepaid plans, where the device cost can't be subsidized, cheaper Chinese devices carry a significant advantage. Huawei currently sells the
U8150 IDEOS
through T-Mobile, and the
Ascend
through both Cricket Wireless and MetroPCS.
Adding to the drama is the history of ZTE's and Huawei's attempts to expand in the U.S. In 2010, U.S. Commerce Secretary
Gary Locke convinced Sprint
to remove them from their telecom bidding, citing security concerns. But since Google's
Eric Schmidt
might be the next Secretary of Commerce, the Pentagon-paranoia might fall away.
source:
The Wall Street Journal