China will be selling the new iPad starting on July 20th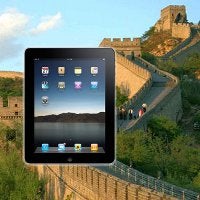 Continuing to have a formidable chunk of the pie in the tablet space,
Apple's new iPad
has been quite a success story over here in the US – and that's in the face of some stiff competition. Without a doubt, they're in a comfortable position at the moment, but that's not stopping Apple from thinking beyond on how to further increase sales.
If there's one market where opportunity is knocking on the door, you don't have to look any further than the biggest one of them all –
China
! Today, Apple announced that it would start selling its latest iPad model, the new iPad, in the great country of China starting on
July 20th
. Furthermore, the pricing format for the third-generation tablet will be in line to what we see here in the US already.
With the new product looming, Apple's iPad 2 will more than likely see a price drop as well in China. For those interested, the new iPad will be available through the Apple Online Store, select Apple Authorized Resellers, and by reservation through Apple retail stores.
Indeed, there's plenty of opportunity for Apple to strengthen its grasp in the worldwide tablet market, especially when China is the biggest market of them all. If the same results are seen over in China, it'll no doubt secure Apple's stringent authority in the competitive tablet market. Needless to say, it'll surely be interesting to see how
Google's Nexus 7 tablet
will be able to stem the onslaught.
source: Apple via
BGR