Chen: BlackBerry Passport is for those wishing to be more productive
51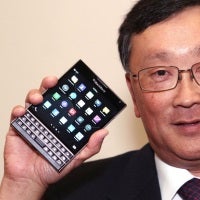 In an editorial written for CNBC yesterday, BlackBerry CEO John Chen explains that the new
BlackBerry Passport
is not for everyone. Unlike most smartphones, which Chen says are designed to allow users to kill time, the Passport helps users make
the best
of their time. In the editorial, Chen makes it clear that the device is not designed for those who want to "
play games on their iPhone
," and instead caters to the "
mobile professional
," which he describes as "
anyone who relies on their device(s) to do their jobs
."
In designing the BlackBerry Passport, the manufacturer focused on the features and traits that mobile users need to become more productive on the go. That includes a long-lasting battery life (a 3450mAh cell is on board), and an innovative screen (the 1440 x 1440 display is perfect for capturing the whole picture, not half of it. The square shape of the screen is perfectly suited for some business type applications). The unique QWERTY keyboard makes it easier to send out a long email while on the go. Additionally, messages can be found at one location, like BlackBerry Hub, and documents and contacts can move seamlessly across devices thanks to BlackBerry Blend. All of the information that you inputted into your 'Berry while out on the field during the day, can be viewed by you on your PC or tablet at home.
Chen pointed out in his editorial that smartphones designed for the masses are usually not great business tools. A survey done by BlackBerry found that business users want a device that is secure, with long battery life, and should be able to stand up to the wear and tear of heavy usage. 71% of those business users surveyed by BlackBerry said that security is the most important trait they want in a smartphone for business. The same percentage want their phone to have juice left over after a tough day out of the office. More than 33% said that a poor typing experience prevented them from being productive.
"And, in that sense, BlackBerry Passport sets the tone for what we do and how we do it. We don't expect to sell a handset to everyone and don't expect to take down the consumers who love to play games on their iPhones. But we do want to provide an experience that caters to the mobile professional – anyone who relies on their device to do their jobs. As I like to say, most smartphones are better designed for helping users kill time than making the most of it.

Innovations with the BlackBerry Passport focus on things that matter: advances in battery life, an innovative screen, a multi-function keyboard and seamless synchronization of contacts and documents across devices, and aggregation of all messages (email, text, social, etc.) into one actionable hub."-John Chen, CEO, BlackBerry
So BlackBerry designed the Passport to provide everything that business users need to thrive in a mobile environment. While the unique design of the BlackBerry Passport makes it stand out, Chen says that it makes its users stand out, too.
source:
CNBC