Check out the re-designed UI on these Nokia Windows Phone models
20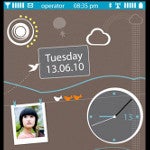 What have we here? Why it's a few pictures of a Nokia Windows Phone model
with a re-designed UI
. Gone are the Live Tiles, replaced with a scattering of photos, clocks and what can only be described as whimsical imagery. One of Nokia's Senior Graphic Designers is responsible for the work and he has already been shipped to Accenture to work on things for Symbian.
According to
the deal it has with Microsoft
, the Finnish based manufacturer
has the right to change the UI
, but Nokia's CTO says that the company will not change it because it doesn't want to make things difficult for those switching from another device to a Windows Phone flavored Nokia model. Another reason why you won;t see this special UI on a released unit is that they were designed by the designer on his own and not as a part of any official Nokia project.
What do you think about any of the re-designed UI shown in the pictures? Would you prefer to see any of these on your Nokia Lumia home screen or do you favor the Live Tiles? Let us know what you think by dropping a comment in the box below.
source:
PocketNow