Check out the made-for-Android wallpapers of designer Alex Pasquarella
4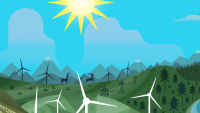 We don't usually write about wallpapers, but when we do, it's because they are go-o-o-d! And when it comes to colorful, Google-inspired patterns, shapes, and cheerful mountain backgrounds, it doesn't get much better than designer Alex Pasquarella's creations. He's got the aforementioned tastes completely covered on his personal web-page, where a large selection of original high-resolution wallpapers is available for free.
There are 7 collections, each representing a specific style in a variety of colors. The Google Now series is a lovely take on the familiar theme, in which Pasquarella has drawn sights from rural America, San Diego, New York, Texas and other places in the same style. The pictures are marvellous and should be included in Android by default - they'd fall right in place. The Celebrate your summer with Motorola collection is a sunny take on the Moto theme, which was commissioned by the Motorola marketing team itself. Alex did a banger of job that brings to mind beach festivals and good times!
The Motomaker collection fits the Moto X best, but its patterns should look good on any home-screen. The Moto pack makes great use of blur and triangles to form a stylish all-around package. The Orbit series is delightflly spacey, while the Ribbons and Swift collections are for fans of simple, colorful patterns.
Get the wallpapers from the source link below, and pour one for Alex and his talent next time you're up drinking responsibly.
source:
Alex Pasquarella
Recommended Stories