Check out Snapguide, an awesome guide-making app for iOS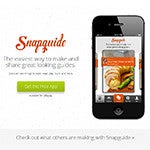 Are you an early-adopting hipster that's bummed that
Instagram is being purchased by Facebook
? Or maybe a
creative type
that wants to share some projects with the world? If so we'd recommend checking out a new iOS app named Snapguide.
In essence Spapguide combines your own photo-taking abilities with a simple content creation template for making "how-to" guides. It sounds simple, but that's the brilliance of it. How to mix the perfect martini? Teach someone how to tie a square knot? Show the world how to install your favorite screen protectors? All of them can be made quickly and easily in Snapguide, and the result is made available for learning on phones and the web.
If you decide to give it a whirl, let us know what you think in the comments below.
source:
Snapguide