Cases for both 4.7 inch and 5.5 inch Apple iPhone 6 photographed?
40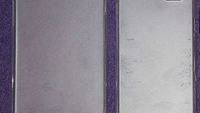 Just because it is getting close to the weekend doesn't mean that the
Apple iPhone 6
rumor mill takes a break. Are you kidding? That enterprise will run 24/7 until the wraps are taken off the next iteration(s) of Apple's iconic smartphone. The latest leak comes out of Monoco, where a photograph shows what we are told is a case for a 4.7 inch Apple iPhone 6, and one for a 5.5 inch Apple iPhone 6.
Why should we care about two cases? The case manufacturers, to be competitive, need to start production of their wares before a phone is introduced. These companies usually won't spend the money needed to start production unless they have a pretty darn good idea of what the phone will look like. With a huge seller like the Apple iPhone, these companies could take a financial pounding if they were to guess incorrectly. Thus, having a 4.7 inch case and a 5.5 inch case is a good indication that we will indeed see two versions of the iPhone released this year, with those screen sizes.
The cases are snapped sitting next to the
Apple iPhone 5s
and the
Samsung Galaxy S5
. The case for the 4.7 inch iPhone is larger than the 4 inch iPhone 5s, but smaller than the 5.1 inch Galaxy S5. And the case for the 5.5 inch iPhone is larger than both models. In other words, every thing is sized as it should be. We should point out that the cutouts on the bottom of the case would seem to line up with the earphone jack and the Lightning cable port, and the opening for the camera lens and flash also matches up with some of the dummy units of the iPhone 6 that have been leaked. Of course, that doesn't mean that they are actually legitimate. In other words, yeah, reach for the salt again.
According to the source of the cases, the 4.7 inch Apple iPhone 6 could be released as soon as July with the larger 5.5 inch model getting released during the iPhone's usual September release period.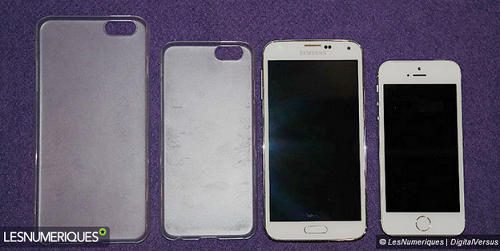 From Left to right, 5.5 inch Apple iPhone case, 4.7 inch Apple iPhone case, Samsung Galaxy S5, Apple iPhone 5s
Thanks for the tip, Tanuki!
source:
LesNumeriques
(translated)
Recommended Stories