Carriers "leaked" $58B due to faulty billing systems
7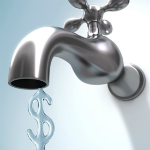 Mobile carriers process a ton of data, really absurd amounts of data, and in the rush to make systems faster and more capable of providing large amounts of bandwidth for users, apparently there are some leaks in the system that are causing some big losses for carriers. According to a new report by Juniper Research, carriers lost $58 billion in 2011 because of faulty billing systems, that adds up to 6% of revenues for all mobile operators worldwide.
Apparently, billing systems created by carriers just can't keep up with the massive amounts of data being processed. Carriers have focused so much on making the data move quickly and reliably, that they haven't spent enough to put in place proper systems to accurately track how the data is processed. This leads to a much bigger opportunity for "leaks" from fraudulent activity or bad debt.
According to the report, if carriers don't put in place reforms to better track usage and billing, what is now a problem accounting for 6% of global mobile revenue could grow 5 times bigger by 2016. However, with proper fixes like better automated systems, and a single repository to better track data in real time, the leakages could drop to around 4% in the same timeframe.