Carriers feeling the unlimited pinch, as mobile video streaming goes HD
4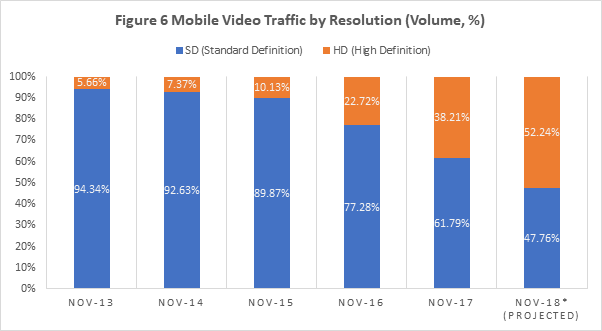 T-Mobile started it with the
Netflix on Us
offer, AT&T supplies you with HBO, and soon
Sprint gives away Hulu
subscriptions - the rise of video watching on your mobile device has been exponential for a while, and the numbers are in.
Apparently, with all those services bundled with their carrier plan, or subscribed to anyway, people are starting to consume more and more HD quality content, too. The share of high-definition video as a percentage of the total mobile video wireless traffic has risen from 5.7% in 2013, to the whopping 38% now, and is expected to surpass 50% next year.
All those bits and bytes flowing in took carriers by surprise, it seems. Over the top (OTT) services first killed their voice calls revenue, then the text messaging haul, and are now hogging up the bandwidth to the extent that carriers struggle to maintain the quality of their networks in peak hours because of the load and all the encryption, say analysts.
Nowhere is that process more visible than on the most populated networks like Verizon or AT&T, after
the introduction of their unlimited plans
, despite that the carriers
deny such notions as insinuation
. Binge watching is here to stay, though, so carrier network upgrade rollouts better step up together with the inevitable plan price increases, as we can only imagine the video definition shift when
5G
rolls in.