It's official! Sprint Unlimited subscribers get unlimited Hulu
12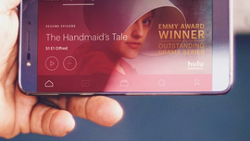 Yesterday, we told you that
Wave7 Research
had published a report, stating that
Sprint would offer free Hulu to its unlimited customers
. Whether the report forced Sprint to show its hand early, or the carrier had always planned on introducing this new feature today isn't known, and it really doesn't matter. Starting on November 17th, Sprint Unlimited subscribers get to enjoy as much Hulu as they care to view.
For those unaware, Hulu is a streaming video provider with a library of movies, original and hit television shows that you can watch over your mobile device. According to the carrier, 80% of smartphone owners stream video on their handset.
Sprint is marking this occasion by creating eight new types of popcorn named after shows that can be streamed on Hulu. For example, the "This is Us" flavored popcorn tastes like salty tears, the "Seinfeld" tastes like nothing, and the "Cheers" popcorn has a taste of beer and pretzels. Customers can win the limited edition popcorn by using the hashtag #HungryforHulu on Twitter.
Those switching now to Sprint can score unlimited talk, text and data for $25 a month per line. The fifth line is free. That is five lines of unlimited data plus Hulu for $100 a month. Getting in a dig at T-Mobile and its partnership with Netflix, Sprint says, "Other wireless carriers might say they have entertainment covered. But are they doing it at the best price?" With Sprint Unlimited, video streams at 1080p, streaming music up to 1.5Mbps and gaming up to 8Mbps. During periods of traffic congestion, these speeds could be throttled.
"How people watch their favorite shows, listen to the latest music, and play the most popular games is changing all the time. We're excited to provide Sprint customers the best in entertainment through our unique partnership with Hulu."-Roger Solé, chief marketing officer, Sprint
For more information on Sprint Unlimited with Hulu, click on this
link
.
source: Sprint