Carl Icahn rattles Apple's cage again; investor will go to stockholders to seek buyback
9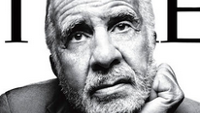 Carl Icahn just so happens to be the cover boy for this week's
Time
magazine and the investor has escalated his feud with Apple management by proposing a stockholder vote on his request for a buyback of Apple's stock. In a tweet sent out on Wednesday, the investor said that he gave Apple notice to increase its buyback program. While Icahn (or is it iCahn?) has previously requested that Apple borrow $150 billion at 3% to buy back the same amount of Apple stock, his tweet said that he is not asking for that dollar amount of shares to be purchased anymore. A new amount was not mentioned.
It's pretty easy to understand the former option trader's game plan. In the middle of last month, Icahn said he owned $2 billion of Apple stock, which works out to 4.7 million shares or less than 1% of the company. Any shares repurchased by Apple would be considered retired. Reducing the number of shares outstanding raises the earnings per share number, in theory driving up the price of the stock. Icahn has said that a $150 billion buy back would send Apple's stock up 33% even without any growth in net profit.
Apple said that it has received the proposal from the man that Time is calling this week, "
the most important investor in America
," but didn't say if the proposal will be on the agenda for Apple's next annual meeting expected to be held in February. The company has responded to stockholders demanding that Apple spread its Scrooge McDuck-ian pile of cash with them by agreeing to buy back $60 billion of its stock. As of September, Apple had spent $23 billion of the money budgeted for the stock purchases. In addition, Apple will pay its investors $40 billion in dividend payments over the next three years.
While that is all well and good, for Icahn the bottom line is the stock price. Although Apple's shares tumbled from a high over $700 on the exact day that the
Apple iPhone 5
launched in September 2012, it subsequently dropped under $400 before the current rebound that has taken the shares back to $566.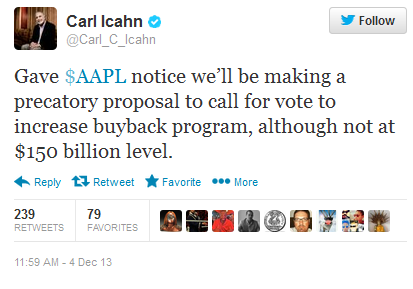 Icahn says he has sent his proposal for a stockholder vote to Apple
source:
AP