Can't wait for the Z4? Take a gander at its splendid Sony Xperia Curve concept
32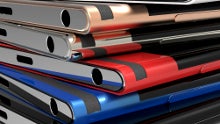 While we are waiting to gauge exactly how the long-awaited Xperia Z4 will look like, and how it will be spec'd-out by Sony, you can marvel at a new concept for the Xperia phones' design popped up, and it is nothing to sniff at.
Dubbed Sony Xperia Curve, this concept render flaunts what the name implies - fleshy, stylish rounded sides, for an overall elliptical impression, doing away with the edgy Xperias of yesteryear. This wishful thinking of a phone is equipped with a 5.2" display, 3 GB of RAM, Snapdragon 810 (what else), 20 MP camera, JBL stereo speakers, and 64 GB of storage out of the box.
Nothing completely out of whack here, but it's these gorgeous curves that will be the main selling point if ever Sony decides to lean in that very direction shown here. Still, despite the extreme side tapering, this concept manages to keep the Xperia design heritage remarkably well, what do you think?