Can't wait for Injustice 2? Well, the iOS version just popped up on the Philippine App Store...
1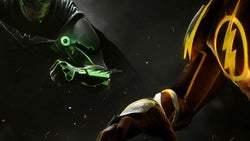 It's safe to say that Injustice 2 is the most anticipated fighting game for 2017. The genre isn't exactly rich on mainstream, universally played and accepted titles, so, now that the latest Mortal Kombat and Street Fighter games are out and going strong, the sequel of the successful superhero brawler Injustice is next to bring round-based fights to our PCs and consoles.
Well, not just consoles. Warner Bros. has been pretty consistent in launching mobile versions of their hot games for the past few years, to act as tie-ins, or just appetizers before the main course. We've seen mobile takes on
Batman: Arkham Origins
, the original Injustice, Mortal Kombat X, and now, we are about to get a mobile Injustice 2!
The game has soft-launched on the Philippine App Store, which means that you can download it if your account was registered in the region... or if you make a fresh account for it (
*wink*wink*
).
Now, if you have experience with WB's previous mobile games, you probably know they have next to nothing in common with the actual fighting titles. They are, instead, collectible card games, cleverly disguised as action titles thanks to beautiful animations and gameplay, which is solely based on tapping and swipes. But we were pleasantly surprised to find out that Injustice 2 has things such as dodge, jumping attacks, crouching attacks, and a "step back and launch projectile" mechanic, next to the already familiar special moves and team-based combat.
The game follows the freemium model, which means that if you want to obtain more characters, or upgrade your own heroes, you will need either money or patience.
So, while it's definitely not a combo-ridden, brutal superhero brawler, the mobile Injustice 2 might be just enough to tie us over as we wait for the main game! Oh, wait... that's still 3 months away.