Candy Crash Saga developer goes public, wants to raise $500 million in an IPO
9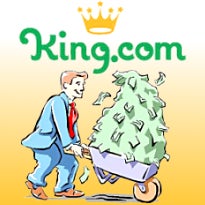 King, the developer behind Candy Crush Saga, announced that it has filed a registration statement to the USSEC (United States Securities and Exchange Commission) and is set to go public. The game developer plans to raise as much as $500 million via its IPO (initial public offering). It is currently unknown how many ordinary shares will be offered on the stock market. It seems, however, that King will use its own name as a ticker symbol on NYSE (New York Stock Exchange) – "KING".
King is mostly popular for the aforementioned Candy Crush Saga, but the company has also been involved in a patent scandal, as it has trademarked both "
candy
" and "
saga
". Take-down letters were sent to many developers, whose games contain these words in their titles and infringe the trademark. But the community of game developers didn't remain idle – an internet campaign,
called Candy Jam, was recently launched
. Its purpose is to troll King by encouraging the developers to create simple games, which contain "candies" both in their titles and as a gameplay element. Currently, more than 450 games have been created as a part of the Candy Jam campaign.
source:
PRNewswire