Can you tell the difference in this Lumia 925 vs. 928 video comparison?
74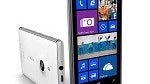 Nokia has enough flagship devices in the market that it can finally start competing with itself when it comes to camera performance. Yes, we know the cameras on the
Lumia 920
and
Lumia 928
are not absolutely perfect, but they are top performers by any measure and we presume that performance will be at least as good or better with the
Lumia 925
, which has the distinction of bearing six lens elements in its camera assembly.
Pared with optical image stabilization, Nokia has created some highly capable cameras on these smartphones. They take great pictures and shoot very nice video. While we have seen some instances of the
Lumia 925 strutting its stuff against the venerable Lumia 920
, it is only natural that Nokia's newest will eventually face each other as well.
The folks at SuperHDView have taken a short video sample of the two super-Lumia's side-by-side as they panned across the landscape.
Having viewed the sample several times in full HD, we could not see any difference, can you? Naturally, we will have an in-depth review of the Lumia 925 in due course, and we will be able to share our insights on its camera performance in great detail with you.
source:
SuperHDView
(YouTube) via
Nokiapoweruser