Can the Samsung Galaxy S5 survive two extreme water tests?
46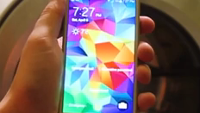 After seeing how
popular the waterproof feature was (and is) on Sony's flagship Android powered smartphones
, Samsung decided that this year, it would have its flagship Android phone come out of the box with IP67 certification. That means that the phone can be submerged in up to 1 meter (3.28 feet) of water for up to 30 minutes, and still survive!
You might recall that last year, Samsung saved the IP67 certification for the
Samsung Galaxy S4 Active
. And not everyone found that the waterproofing worked as advertised. One newspaper journalist writing about the phone, was taking it in a pool to snap some pictures. Even though his Galaxy S4 Active was no more than 3 feet underwater for less than 30 minutes, when he came out of the pool
his handset had gone to smartphone heaven
(hold back those tears, guys).
Samsung and AT&T, which had an exclusive for the Samsung Galaxy S4 Active in the U.S., even offered to
exchange a water-logged unit for a brand new one as a one-time courtesy
. That move indicated how the model was having problems with water damage. Some of the problem could have been due to users of the phone not following Samsung's directions for keeping the device watertight.
To see if the Samsung Galaxy S5 would hold to its IP67 certification, the device went for a swim in 1 meter of water. And instead of waiting 30 minutes, the phone was left underwater for one hour. Would it survive? Spoiler alert! The Samsung Galaxy S5 might have been all wet, but it was still working perfectly after 60 minutes. But there was another test left. The phone was put inside the pocket of a pair of jeans that was ready to go through a normal washing cycle. Could the Samsung Galaxy S5 live through 50 minutes of spinning and sloshing? Yes, once again the Samsung Galaxy S5 came out of a dangerous confrontation with water, in perfect condition.
Looks like Samsung might have nailed this waterproofing thing after getting off to a shaky start last year. We recently showed you a video revealing that the
HTC One (M8)
could survive being submerged in a shallow pool of water for an hour
, although that phone has not received any IP certification. If you were going to choose between these two models, would the IP67 certification of the Galaxy S5 play any role in which phone you would select?
source:
TechSmart