Can the Microsoft Band stand up to more than mere splashes of water?
7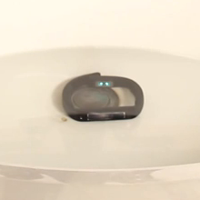 The Microsoft Band has come along at a perfect time for Microsoft. With the holiday shopping season about to kick off a week from Friday, the software giant has the Microsoft Band to push at its online and physical Microsoft Stores. In fact, there has been so much demand for the wearable, that
lines have been forming inside brick and mortar Microsoft Stores
.
According to some published reports, the Microsoft Band has an IP 54 certification. That means that it is protected from dust and splashing water. A Microsoft Band water test has been posted on YouTube to check whether the device does protect against splashing water, or if it does perform better (or worse).
The first test was to see whether the wearable stands up to sweat or rain. To duplicate those conditions, the device was put under a faucet of running water. Running perfectly after getting dried off, the Microsoft Band met the first test with a thumbs up. Next up was the submersion test. The Band was submerged in water for 10 minutes and not one iota of damage could be detected. So back it went for another 10 minutes, and once again it emerged from the sink unscathed.
So it would seem that the Microsoft Band could be resistant to more than just splashes. However, at $199 (and very hard to find, especially during the holiday shopping season), you might not want to take it into the shower or in the pool, even as a test. Why take that chance? It does, however, seem good to go in the rain.
Thanks for the tip!
source:
ITW