Cameos on Google is a new iOS app that allows celebrities to get personal on video
1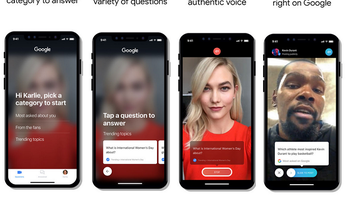 So let's say that you're a celebrity and you want the public to have their questions about you answered directly from, uh, the horse's mouth. Cameos on Google is the app that you would use to first find the questions from your fans, and then record a video response to them. The app also allows you (the celebrity) to post the video to Google where it will appear when you are the subject of a Google search.
Cameos on Google is only available for iOS right now, and the videos could be recorded using the front-facing FaceTime camera on an Apple iPhone. So if you're in the public eye, and you're the subject of various rumors, you can address them yourself using the app.
On the Cameos on Google App Store listing, it tells celebrities to answer the fans' questions in their own style. "Amplify your presence on Google with videos in your own authentic voice," Google recommends.
Rumors and misinformation, whether they come from the Kremlin or from someone sitting in a Krispy Kreme, can stain a celebrity's reputation, one that he or she has spent a lifetime to cultivate. Using Cameo on Google will allow him or her to respond to allegations and also answer other questions relating to the celebrity's life. And the videos, as we pointed out, will appear on Google Search, the place where most people go to find out information about people in the public eye.
To install the app on an iOS powered device, click on the sourcelink below.