Call of Duty: Mobile revealed for Android and iOS, pre-registrations open in the US
2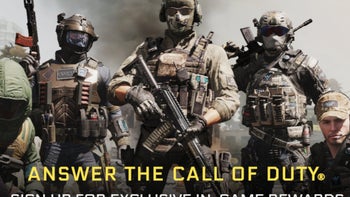 If you're a fan of the Call of Duty franchise, you'll soon have the chance to experience the game you like not only on your PC or console but also on your mobile phone. Activision has just revealed the free-to-play Call of Duty: Mobile for Android and iOS devices, a game that will most likely be available for download later this year.
After briefly testing the game in China late last year, Activision is bringing Call of Duty: Mobile to the West on both the Android and iOS platforms. The game is co-developed with Tencent, the world's largest gaming company, and a veteran when it comes to the Call of Duty franchise.
Tencent started hosting MMO games such as Call of Duty Online back in 2011, but since then, it acquired high-profile franchises like League of Legends and Ring of Elysium, and partially owns others like Fortnite and PUBG (PlayerUnknown's Battlegrounds).
Call of Duty remains Activision's most prolific franchises, which is probably one of the main reasons the publisher has decided to bring it to mobile phones. After Blizzard, a fully-owned Activision subsidiary, announced last year that the next chapter in the Diablo saga will arrive on mobile, a Call of Duty mobile game makes perfect sense.
But what exactly the new free-to-play Call of Duty: Mobile title will bring to worldwide audiences and how are going to be able to experience it? Here is a quick rundown of Activision's official announcement that went live earlier today.
Iconic maps, fan-favorite gameplay modes
First off, if you're a hardcore Call of Duty player, you'll be happy to know that the game comes with some iconic maps like Nuketown, Crash, and Hijacked. Those who've never played the game that much to be familiar with these names will have to adapt on the go … literally.
Activision also revealed that the game will feature several competitive game modes, including, but not limited to Team Deathmatch, Search and Destroy, as well as Free-for-All. More game modes will be announced closer to release, the developer states in the
announcement
.
Keep in mind that if you're looking for a single-player shooting experience, Call of Duty: Mobile won't satisfy your needs. Activision didn't reveal anything related to single-player content, so we must assume this is a purely PvP game.
If you're wondering whether or not your phone will be able to run the game, your guess is as good as ours. However, Activision promises "stunning visuals and topography," along with "console-like fidelity and polished gunplay" when it comes to weapons.
Another important aspect of the game, vehicle physics is supposed to deliver an added degree of realism on mobile. The bottom line is you should expect eye-popping visuals, seamless controls, and fluid gameplay.
Pre-register to receive access to the public beta
You're probably wondering when you'll be able to play Call of Duty: Mobile and whether or not you can do something to play if faster. Well, for starters, you could pre-register for the game to receive all the latest game updates, information, and, more importantly, access to the public beta.
The
pre-registrations are now open
in select regions, including North America, South America, Europe, and other territories. However, the public beta won't be rolled out until summer, and it's not going to be available to everyone.
As mentioned earlier, the game will be available for free, but some items in the game might cost real money. Even so, in-app purchases are likely to be limited to cosmetic items that will allow players to customize their weapons and other gear. We'll probably find out more about the monetization system when the public beta goes live in the coming months.