Buy the Samsung Galaxy Note 4 and get a set of 4 Avengers cases for free (U.S. Only!)
13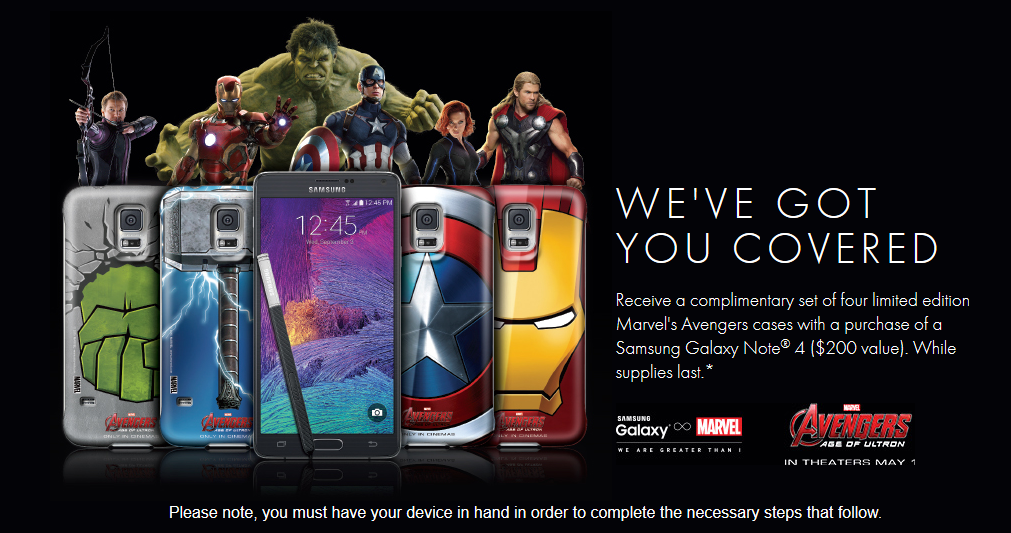 Buy a Samsung Galaxy Note 4 before June 1st and receive a free limited edition set of four Avengers cases for your phablet
We recently saw Samsung and Marvel team up to
run a two part video promo
for the
Samsung Galaxy S6
. The pair of videos not only promoted Sammy's flagship phone, it also gave a nod to the the new Avengers' movie,
Age of Ultron
. Earlier this week, Lee Young-hee, head of marketing for Samsung Mobile, said that
Iron Man versions of the Samsung Galaxy S6
and
Samsung Galaxy S6 edge
are on the way.
This isn't the first time that Marvel characters have been used to sell handsets. Was it really seven years ago when LG tried to use the success of the first Iron Man movie to sell its self proclaimed iPhone killer, the
LG Voyager
? A couple of years later, it was the
LG Ally
that teamed up with the Iron Man sequel for a pretty funny commercial that spoofed hero movies. We've embedded both of them below as a treat for our more nostalgic readers.
But here is the news that is important right now. Samsung and Marvel are teaming up for a limited time free offer. Anyone who purchased or will purchase the
Samsung Galaxy Note 4
in the U.S. between May 4th and June 1st, will receive a free limited edition set of 4 Avenger themed Galaxy Note 4 phone cases. Sammy says it is a $200 value, which does seems a bit exaggerated. Still, we can't deny that they look awfully cool. There are only 4300 sets to be given away so time is of the essence here. Once you have your new Galaxy Note 4 in your hand, go to the sourcelink to claim your free Avengers cases. Do not do it before you actually are clutching your new phablet, or else you will be wasting your time.
source:
Samsung
via
AndroidPolice