Browser Wars: Speed & Benchmark comparison
69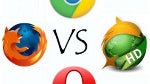 It's been a while since we last compared the marvelous mobile web browsers that we have at our disposal. So, after many new versions and updates, as well as entirely new offerings in the area, we decided it's finally time to put the leading browsers through their paces.
We decided to make a speed (page loading) and benchmark browser comparison featuring the following contenders...
THE CONTENDERS
ICS Stock
Chrome
Firefox
Dolphin
Opera Mobile
Safari
THE RULES
The first test
in the comparison has to do with speed! We're comparing the time needed for all browsers to load a set of web pages. With each browser, we loaded every page three times, with the first time being performed after a restart of the device. The purpose of this is to take into account both first-time and consecutive loading times of the web pages. In the first table below, you'll see the average timing achieved by each device for every page, as well as an average time figure, which is the average of the device's timing for all four pages.
The phone we used for the tests was the
Samsung Galaxy S III
with Android 4.0.4 ICS. Safari was tested using the
Apple iPhone 4S
.
All tests were made with Flash turned off in all browsers. Both the Galaxy S III and iPhone 4S were connected to the same Wi-Fi network and positioned at the same distance from the hotspot.
In the second test
, we ran the BrowserMark and Ringmark benchmarks on all six browsers. When completed, BrowserMark returns a single "Score" number, while Ringmark shows the number of supported web features and successfully completed tests. Please bear in mind that such kinds of synthetic benchmarks don't always represent the browser's real-world performance.
TEST #1: PAGE LOADING TIMES
Although some may find it hard to believe, our first test proved that Chrome for Android isn't the ultimate go-to mobile browser. At least, not yet. With Ice Cream Sandwich, Google made some tremendous improvements in the system's stock browser, and it looks like this piece of software still isn't willing to step aside and surrender its place to Chrome. Most of the times, the stock ICS browser managed to slightly outperform Chrome, which practically guaranteed it the top spot, shared with Safari. Chrome took the silver with a convincing average result of 9.2 seconds, followed by Firefox and Dolphin. Opera Mobile finished far behind its competitors, but we should note here that the browser loaded the pages almost fully, and was perfectly operational, even though the progress bar stayed at about 90% for a long time. Nevertheless, since we are measuring the time it takes for the browsers to
completely
load a page, Opera Mobile's results ended up quite poor.
We'd also like to mention that we experienced no failed loading attempts with the iPhone 4S's Safari. With pretty much all other browsers, there were times when the loading progress would just stuck, or the page would not start to load at all, or would take suspiciously long to load completely. We have not taken those failed attempts into account for the the results that you see below.


PhoneArena.com (seconds)
NYTimes.com
(seconds)
NationalGeographic.com
(seconds)
Imdb.com
(seconds)
Average
(seconds)
Android ICS Stock
11.9
7.6
9.4
4.1
8.2
Chrome
16.6
9.6
6.5
4.2
9.2
Firefox
15.3
9.6
10.5
7.6
10.7
Dolphin
18.9
13.8
10.3
4.2
11.8
Opera Mobile
16.3
27.5
22.3
9.7
18.9
Safari
12
6.5
10
4.4
8.2
* Lower is better
TEST #2: BENCHMARKS
You just can't make a comparison nowadays without checking out the benchmark numbers. Although we all know that these scores don't necessarily represent the browsers' real-world performance, we're relatively convinced that the numbers do stand for something, although it isn't perfectly what it is. The philosophy behind Ringmark is a step in the right direction, as it simply checks if a browser supports a number of basic and advanced technologies, including HTML 5. It's worth noting that many of these advanced browser/web technologies aren't needed for a full browsing experience yet, but some of them will probably become popular in the near future. Once again, before we go on with the scores themselves, what the Ringmark figures represent is the number of supported web features and successfully completed tests.


BrowserMark
(score)
Ringmark
(features / tests)
Android ICS Stock
167134
56 / 237
Chrome
158902
56 / 258
Firefox
75911
26 / 101
Dolphin
102398
56 / 237
Opera Mobile
44733
26 / 101
Safari
87231
56 / 251
* Higher is better
CONCLUSION
The tests we did kind of proved what we have previously observed when using these most popular mobile browsers. The stock Android browser in ICS is still a bit faster and smoother than Chrome in most situations, but this doesn't really matter much, as we know that Google is phasing it out, and replacing it with Chrome in Jelly Bean. The rest of the Android gang is also very strong, with Firefox trying to close the gap with the others, and Dolphin still holding strong positions. At this point, it is mostly a matter of which experience suits you best, with some small exceptions. Meanwhile, Apple seems to be doing a good job of keeping Safari on par with the best Android browsers, mixed with the traditional top-notch stability found in iOS.
At the end of the day, it becomes evident that there currently isn't a definite leader in the mobile browsing space, which is a good thing, because it will keep all parties motivated to improve and innovate their offerings.
Which is your current browser of choice? Do you plan to change it after seeing these results? Feel free to sound off in the comments!
Recommended Stories