Broadcom announces next-gen Wi-Fi chip for smartphones and tablets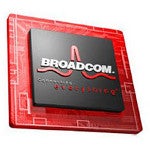 Although 4G LTE is all the rage nowadays, most of the internet traffic of the average smartphone owner is handled over a Wi-Fi network, be it at home or at the office. And that type of connectivity is is evolving too, you know, as the 802.11ac standard is already on its way into consumer devices. But is the next big thing in Wi-Fi going to land in smartphones and tablets anytime soon? You betcha!
Broadcom announced its smartphone and tablet-optimized BCM4335 combo chip that features
"a complete Wi-Fi system"
on a single piece of silicon. In addition to 802.11ac, also known as fifth-gen Wi-Fi, the chip includes Bluetooth 4.0 and FM radios, all the while keeping interference with LTE frequencies to a minimum.
What makes the 802.11ac flavor of Wi-Fi better than its "n" predecessor is that it boosts transfer rates by 10% while reducing power consumption by up to six times. Broadcom also mentions that its chip is compatible with technologies like Wi-Fi Direct, Wi-Fi Miracast, and Wi-Fi Passpoint.
Select companies interested in the BCM4335 have been shipped samples of the chip for testing. The first devices to feature it, however, will not be out before 2013, when Broadcom will start producing the chip in volume.