British man's purchase of an Apple iPad turns out to be a spud
44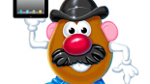 We've seen this too many times before. A person is approached by a shady character offering a boxed Apple iPad at a ridiculously low price. The transaction is made and the seller scrams leaving the buyer holding the box, happy to have made a great deal for Apple's iconic slate. However, when the box is opened, instead of a new iPad, inside is
a mirror
or a
block of wood
. But now, we have something new that has been substituted for an Apple iPad in this scam, a
potato
!
It all took place in the U.K. when a man at Picadilly train station in Manchester, England was approached by a couple of men offering him a brand new Apple iPad for £250 ($390 USD). They told him that if he was interested in the deal, he should meet them behind a car park behind Market Street near Debenhams. So sure enough, the three met at the agreed upon location and the buyer forked over the £250 in cash. After turning over the box to the buyer, the sellers drove away, presumably in a hurry. The buyer opened the box and instead of finding a brand new iPad, he discovered a pile of potatoes.
We would normally remind you that when you purchase a device like an Apple iPad, you should only do so from a
reputable seller
. But we then remembered the mother that
purchased a new Apple iPad for her daughter's birthday from Walmart
last year only to find a stack of note pads in the box. So our tip for today is that no matter where you buy a new device, demand to see what is in the box before you pay.
source:
ManchesterEveningNews
via
IntoMobile