Bloomberg: Galaxy S 4 to have Snapdragon in the US, Exynos 5 Octa elsewhere, but eye-scrolling won't make it
49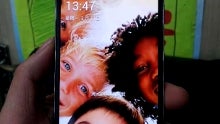 Bloomberg's Scott Moritz, whose impassionate videos have often
predicted it right about the iPhone franchise
, is now citing sources inside Samsung, moving on to disclose some tidbits about the most eagerly awaited phone this season - the
Galaxy S 4
.
The Snapdragon gear is, naturally, heading to US carriers, as Qualcomm's multi-band LTE radio is very well optimized for the quirks of carrier networks on its home turf, while Samsung's octo-core silicon doesn't have the 4G baseband modem integrated, meaning it will potentially be less power efficient than Qualcomm's SoC at our side of the pond. We've seen this play over and over with Samsung's Galaxy line - Exynos chip for the international version, and Snapdragon in the US, so it's a pretty believable scenario. Not that we are worried, given
Snap 600's north of 12 000 points on Quadrant
, measured on the
HTC One
and
LG Optimus G Pro
.
As far as the much rumored eye-scrolling feature goes, the sources were not entirely convinced that Samsung will be including it with the S 4 out of the box, but they said it might grace company devices later on. They were positive a toned down eye-tracking tech will be in, though, namely the
video pause function
, which stops playback when the front camera senses your eyes have moved away from the display.
The analysts also regurgitate the rumors about a
5" display
, and a
13 MP camera
on the back, but don't say anything special about it, so we'd have to assume it won't have any large pixel or optical image stabilization shenanigans built-in, but lets wait and handle the finalized product when we cover the event live from Radio City Music Hall.