Bloodstroke – an action game by John Woo comes to Android
6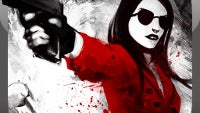 Bloodstroke is an action game that made its debut on iOS back in January, 2014. With the very first screenshot in the App Store, it presents itself as "a John Woo game, from John Woo", so we guess John Woo was somehow involved in the game's development, but that's just speculation... Anyway, enough shenanigans, the game is now available for all you kill-'em-all lovers on Android to enjoy.
And when we say kill-'em-all, we mean it, as the game is nothing more than non-stop action with scrambled bits of plot here and there. And that is in no way a bad thing. Bloodstroke remembers that it's a mobile game and doesn't want to overcomplicate things for people who are just looking for a quick action-gaming fix on the go.
The game puts you in the shoes of Mai "Lotus" Lee, a personal bodyguard, tasked with protecting some scientist whose name you'd never care about. Each level finds you running from the bad guys on foot, your characters just keep moving forward, no matter what you do, so you are literally pushed to move from conflict to conflict. Lotus is invincible but her client is not. So you are free to run amongst enemies untouched, however – you need to dispose of them as fast as possible, before the good doctor's healthbar dops to 0, which would be a mission loss.
The game is presented in a beautiful Sin City-like animation style, with everything being in black and white, safe for the red color. Expect a lot of really contrasting blood splatters as you hack, shoot, and slash through enemies. With soundtrack provided by the Far East Movement, you'd probably feel like a G6 while doing it, too.
The game costs $0.99 on both the App Store and the Play Store and offers in-app purchases. Kind of stingy, yes, especially since some levels are quite punishing without some upgrades that you either need to pay for, or spend hours in grinding to buy with reward money. Still, finishing the game with only a couple of wise purchases is possible, one just needs to think things through, before pressing the $ button.