BlackBerry seeks injunction against Typo2
48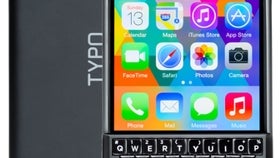 Ryan Seacrest, radio and television star, had a problem. He loved the BlackBerry physical QWERTY keyboard, but he also liked using the iPhone. So he would use his 'Berry for emailing, texting and for other times when he needed more control over his typing. For everything else, he used the iPhone. Eventually, he had an idea. A
snap-on physical QWERTY for the iPhone was produced
, and was soon offered to the public as the Typo. The company's website proclaimed that the product increased typing speed on the iPhone by 50%.
When designing Typo, Seacrest's crew made a major blunder. They made the keyboard look almost exactly like the one on the
BlackBerry Q10
. The Canadian manufacturer took notice and sued Typo.
The court ordered an injunction
which Typo allegedly violated, and earlier this month
the company was ordered to pay BlackBerry $860,000
.
Eventually,
Typo's designers went back to work and created Typo2
. We wouldn't say that there were many changes made, and apparently BlackBerry agrees.
The Hollywood Reporter
(not exactly known for its smartphone coverage) reported on Tuesday that BlackBerry has filed suit against Typo once again, claiming that the Typo2 "
still blatantly copies BlackBerry's iconic keyboard
." BlackBerry also included trade reviews with its complaint, with many saying that with Typo2 "
the BlackBerry influence remains
."
"Just as they did with the Typo Keyboard, Defendants have again copied numerous proprietary BlackBerry designs and patents in the Typo2 Keyboard," states the complaint. "The Typo2 Keyboard still blatantly copies BlackBerry's iconic keyboard trade dress designs that have been embodied in numerous BlackBerry smartphones from the 2007 BlackBerry 8800 to the current Q10 and Classic models. The Typo2 Keyboard also infringes numerous BlackBerry utility patents related to BlackBerry's proprietary keyboard design, backlighting and typing automation technologies."-BlackBerry
BlackBerry is asking for damages and another injunction, looking "
to put an end to Defendants' pattern and practice of unlawful conduct
." It makes us wonder why Typo designers couldn't have just come up with a design totally unlike BlackBerry's keyboard. The basic idea is very sound, but if the court rules that Typo2 also copies BlackBerry, it might be game over for the young company.
source:
Scribd,
TheHollywoodReporter
via
MobileSyrup
>