Ryan Seacrest shows off Typo keyboard on video
19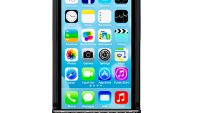 We have got to hand it to those guys and gals at TMZ. When they caught Ryan Seacrest coming out of an L.A. eatery, they didn't ask him about
American Idol
or any of the 10 zillion other broadcasting and entertainment properties that he is involved with. Nope. Instead, the reporter asked the hardest working man in show business about Typo.
If for some reason you missed it,
Typo is a snap-on QWERTY keyboard for the Apple iPhone
and is supposed to increase your typing speed by 50%. Priced at $99, it is a wonderful idea except for one major issue. Whoever was responsible for the design of the actual QWERTY apparently was sitting in front of a
BlackBerry Q10
at the time, because the Typo keyboard looks just like the famous BlackBerry keyboard right down to the frets. That
brought BlackBerry's lawyers into the picture
and a lawsuit was filed.
The idea for Typo came about when Seacrest had to carry two phones, an iPhone and another unnamed handset with a physical QWERTY that he used for messaging. Was it a BlackBerry Q10? We don't know at this point, although that information will certainly be outed under oath during the trial. And as founder of Typo, and an investor in the company, Seacrest just so happens to really use one on his iPhone as this short video will attest to.
TMZ