BlackBerry rumored to have a surprise at today's unveiling of the BlackBerry Passport and Classic
33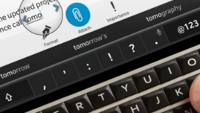 Later today, BlackBerry is expected to officially unveil the
BlackBerry Passport
, the most eagerly awaited 'Berry since the
BlackBerry Storm
back in 2008. A square form factor manifests itself in a 4.5 inch screen with 1440 x 1440 resolution. The physical QWERTY doubles as a trackpad, and punctuation and numbers appear as virtual keys that show up based on context. A large battery suggests that
there will be no wall-hugging
with this model. There has been no BlackBerry like it, and with BlackBerry 10.3 installed,
the BlackBerry Assistant
will be included. The phone will be
priced at $599 in the states, unlocked with no subsidies
.
Also expected to be unveiled today is the old-school BlackBerry Classic. Sure, the QWERTY on this handset might remind you of the
BlackBerry Bold 9900
, but it also includes the Bold's touchpad and function keys that were removed for the
BlackBerry Q10
.
But wait. There could be more. The night Canadian air is buzzing with talk that the company has one other secret device that it will introduce at today's big shindig. It could be a new tablet to replace the aging
BlackBerry PlayBook
, a new phone to replace the
BlackBerry Z30
, or perhaps a BlackBerry Watch.
While many of you have a big time interest in the Passport, that secret device could also be quite interesting. Stay tuned.
source:
BlackBerryOS