The BlackBerry Passport will go on sale Wednesday at $599 unlocked in the USA
59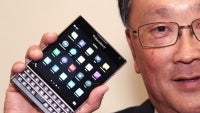 There is nothing better than getting price and release date information straight from the people at charge. And this happens to be the case with the upcoming
BlackBerry Passport
! Company CEO John Chen revealed that the wildly square smartphone with a QWERTY keyboard will go on sale this Wednesday, priced at a fair (and square!) $599 unlocked, without subsidies in the USA.
Chen assures us that BlackBerry is being generous, as flagship models from other smartphone manufacturers are positioned in the $700 range. However, the company wants to "try to get the market interested", so it's going to "start a little lower than that". Well, we can easily imagine consumers paying $50 more for an unlocked Apple iPhone 6 or Samsung Galaxy S5, but that's up to anybody to decide.
The BlackBerry Passport is an interesting device, no doubt. It differentiates itself with a 4.5-inch square screen with the resolution of 1440 x 1440 pixels and a superb pixel density of 453ppi. It's also powered by a reasonably fast Snapdragon 800 quad-core processor clocked at 2.2GHz, along with a steady 3GB of RAM and 32GB of built-in storage. It has a 13-megapixel main camera and a 2MP selfie snapper. The battery capacity is also one of the best around - 3450mAh.
That's plenty of good hardware for the money. But can the quirky Passport appeal to mainstream customers and business professionals alike? Analysts such as IDC Malaysia's Daniel Pang seem to share our preliminary opinion of the Passport - a "good phone, but it will never really hit the mainstream as a premium offering". John Chen and company acknowledge this possibility, with the CEO saying that the phone is designed for users who "need to be productive on their phones, such as those working in the medical field". According to him, the Passport lets users view more characters on a single line than on typical rectangular smartphones like the iPhone.

Regardless of its market fate, the Passport marks a bold return for BlackBerry, and showcases John Chen's patience and focus in his mission to turn around the company. The Passport will be followed by the BlackBerry Classic in December, which is aimed towards fans of the distinctive design and keyboard designed for quick communication.