BlackBerry releases new features for Hub, Calendar and Productivity Tab apps
2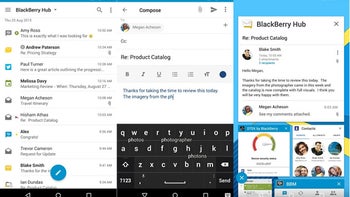 If you're rocking a
BlackBerry smartphone running Android
, you're in for a treat. The Canadian company is updating its dedicated apps in a timely manner, which probably means that software-wise you've made a good decision going for an Android-powered BlackBerry phone.
The last batch of updates released by BlackBerry target three apps:
Hub
, Calendar, and Productivity Tabs. All three are getting various new features and improvements that further improve the user experience.
Firstly, BlackBerry greatly improved Hub's user interface. You'll notice that in all BlackBerry's Hub+ apps there's a new consistent placement of icons, menus, and tabs, as well as look and feel.
But that's not all since the new version of Hub comes with a new option that allows users to select fonts in emails. Apparently, each email account now allows you to choose the font type, size, and color. There's also a new option that allows Hub users to specify what hash algorithm to use for signing operations of outgoing S/MIME messages.
Concerning Calendar, BlackBerry added Chinese Lunar Year information across the different calendar views in the Chinese Lunar Calendar.
Finally, the
Productivity Tab
has been improved with widgets. Whenever you want to add widgets from apps, you can use a dedicated tab on the Productivity Tab. You'll be able to arrange the order of these dedicated tabs and manage their visibility. Also, you'll now see content from all your social accounts in the Hub tab in addition to email accounts.
New versions of all three apps have already been uploaded to the Google Play Store, so make sure to update to the latest versions to benefit from these improvements.