BlackBerry hires David Kleidermacher as Chief Security Officer
8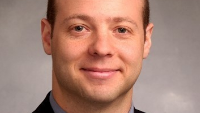 This morning, BlackBerry named David Kleidermacher as the manufacturer's Chief Security Officer. Kleidermacher's job is to keep BlackBerry focused on the secure enterprise market including the development of new products. He also will be in charge of product certification and approvals. BlackBerry has over 70 government certifications and approvals which leads all smartphone manufacturers. BlackBerry is also the only company in the industry to offer secure, encrypted calls and texts.
Kleidermacher has more than 20 years of product engineering and is well-versed in operating systems, mobile security and the Internet of Things. He comes to BlackBerry from Green Hills Software where he served as Chief Technology Officer. Considering the areas of his expertise, it should not be a surprise that Kleidermacher hold patents in IoT technology, software development and mobile security.
Besides the previously mentioned tasks, Kleidermacher will oversee security research and product development at BlackBerry. While working at Green Hills, he was the leader of the team that developed the INTEGRITY high reliability real-time operating system which received the highest security level ever obtained for an OS (even receiving clearance from the FAA). Kleidermacher sounds like a great (and natural) addition to the BlackBerry team.
via:
Crackberry