BlackBerry for Android leaks, but doesn't work
8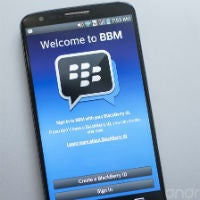 We've been seeing various leaks about the upcoming BlackBerry Messenger app for Android and iOS for a while now. BlackBerry had originally said that the app would launch in the summer, which would mean it has to make it out this week for that statement to be true. Earlier today, the Android installer APK for BlackBerry Messenger leaked out, unfortunately, it doesn't work.
You can download it and install it if you want, but it won't do you any good. It seems that BlackBerry has the app locked down and is only allowing whitelisted BlackBerry IDs to login to the app. If you had a whitelisted BBID, you'd likely already have a beta version of the app, so there isn't much use of this APK. BlackBerry has commented on this, saying:
The excitement around the upcoming launch of BBM for Android and iPhone users is amazing. We want to thank everyone for their enthusiasm, but wanted to let people know that the program is structured so that only those in the beta will be able to use the app. The version we've seen on the Web in the last couple of days can be downloaded, but will not work on devices that are not approved in the beta program.
We can hope this leak means that we're close to a proper release, especially given that BlackBerry has said that the app was
submitted
to the iOS App Store weeks ago and is awaiting approval. Unfortunately, there are also rumors that the app will not be available to all upon release anyway. More word on that soon.