BlackBerry Z10 prices dropped by U.K. retailers
9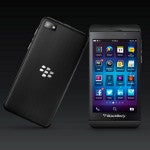 The
BlackBerry Z10
broke records in Canada. In its hometown, BlackBerry sold 50% more units during the launch of its first BlackBerry 10 device than any other 'Berry launched in Canada ever. But in the U.K.,
where initial sales were said to be strong
, the excitement has died down and the all-touch model has been
cut in price
by some top U.K. retailers. Carphone Warehouse, which originally offered the phone for free with a monthly two year plan of £36 per month ($54.43 USD) is now selling the phone for £29 ($43.85 USD) with a £29 per month data plan. That works out to a total lay out of £725 ($1,096.13 USD) vs. a total cost of £864 ($1,306.28 USD) with the earlier plan. That works out to savings of about £139 ($210.15 USD) with the new pricing, over the two years of the contract.
Apple iPhone 5
or the
Samsung Galaxy S III
. The analyst noted that the
top end
of the market is where the profit margins are the widest.
A study done for BlackBerry showed that one third of BlackBerry Z10 buyers were not coming to the model from another BlackBerry phone. That is a good stat for BlackBerry as the company usually depends on sales from its loyal followers. The price cuts pour fuel on the fire for those who claim that
the strong launch of the BlackBerry Z10 that was claimed by BlackBerry CEO Thorsten Heins
was
based on small supplies given to retailers
instead of strong demand for the model.
"The case for [BlackBerry's] recovery has been that in the long run, the company could return to selling high-end handsets that would feature enough profitability that handset profits could more than offset long-term declines in the highly profitable service business.We believe that meaningful price cuts so soon after launch, while probably at the initial discretion of the carriers, is likely to relegate the Z10 to being a mid-tier device with very low gross margins."-James Faucette, analyst, Pacific Crest
source:
Telegraph
via
Pocketlint