BlackBerry PlayBook is now in stock at Best Buy
5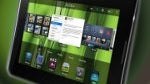 After being
absent for a couple of weeks
, the Wi-Fi-only
BlackBerry PlayBook
is once again in stock at Best Buy's online store, and most likely in the retailer's brick and mortar outlets as well. The tablet is priced at $199, $249, and $399 for its 16, 32, and 64 gigabyte models respectively.
The shortage of PlayBooks came very soon after the tablet's price got set at a whopping $300 below MSRP. Eventually, Best Buy ran out of PlayBooks so fast that some of the customers who ordered online had their orders unexpectedly canceled.
So, if you are looking for a decent tablet on the cheap, the BlackBerry PlayBook might be just the device for you. And remember that a
major software overhaul for the tablet
is due in February of 2012, which makes Best Buy's deal sound even more tempting.