BlackBerry Passport bends, but doesn't break when Bloomberg reporter takes John Chen's challenge
33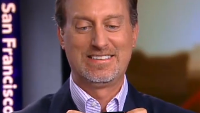 On Wednesday, BlackBerry introduced the
BlackBerry Passport
, its new flagship model made for the power using businessman. The manufacturer now has a high-end phone that runs office suites beautifully, using a square screen. With a new contextually aware QWERTY keyboard, typing emails and messages has never been easier or as much fun. And
thanks to BlackBerry Blend
, information gathered on the handset while out in the field, can be viewed over a tablet or PC in the office.
When BlackBerry CEO John Chen appeared on Bloomberg Wednesday, he invited the hosts of the show to try to bend the BlackBerry Passport. The invitation was made, of course, because of the reports indicating that the
Apple iPhone 6 Plus
can be bent
. Chen had already told the media during the event that introduced the new 'Berry, that
the Passport could withstand the same amount of pressure that buckled Apple's phablet
. For the record, the Passport has a bit more meat on its bones as it weighs in at 9.3mm thick vs. the 7.1mm of the iPhone 6 Plus.
Check out Bloomberg's Cory Johnson as he tries to turn the BlackBerry Passport into the
BlackBerry Pearl Flip
. Was Chen wrong? Can the Passport fold like an accordion? To find out, click on the video below.
source:
Bloomberg