BlackBerry Kopi spotted alongside the BlackBerry Q5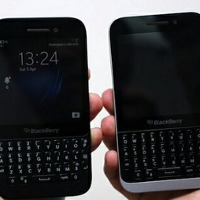 Even though the BlackBerry Kopi was canceled by the Canadian handset manufacturer, the phone itself has been the subject of a few snapshots recently. In September, we first heard about the Kopi and even showed you pictures of the device. The phone was to come with BlackBerry 10.
2.1
installed out of the box, and we would imagine that the unit was really intended for emerging markets. While it did feature a built-in QWERTY keyboard, it certainly was not the type that BlackBerry fans would be accustomed to, as they were of the lozenge variety used on the
BlackBerry Q5
.
And speaking of the BlackBerry Q5, the pictures below show the entry-level model next to the BlackBerry Kopi. The Kopi looks like a lower-cost version of the Q5, which is hard to believe since the latter is already considered an entry-level BlackBerry 10 phone.
The Foxconn designed and built
BlackBerry Z3
should be
released in Indonesia soon
, and as the first handset release under the new regime, the reception to the phone might tell us if John Chen is on the right track. What will really tell us about the Chen administration, is how well BlackBerry's new high-end phones do in markets like the U.S.
source
BerryFlow
via
BerryReview