BlackBerry KEYone Black Edition hands-on: the powerful new dark side of BlackBerry
16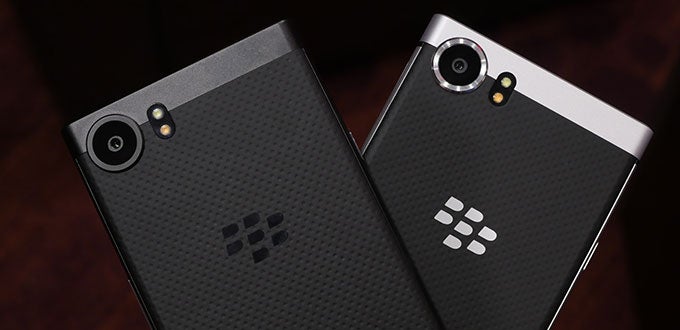 One of this year's most divisive handsets has been the
BlackBerry KEYone
. Is its unusual shape and hardware QWERTY keyboard trying too hard to play into the nostalgia some (presumably older, stuffy, businessman-type) users still harbor for the early days of smartphones? Or is this interesting mix of unique input schemes, insane battery life, and pricing that's on the affordable end of the flagship scale a welcome change of pace in a market that far too often can feel a bit uninspired when it comes to phone choices?
But even if you're a dedicated
KEYone
fan, things can get a little stale with only one option for the phone: one color, one set of specs – take it or leave it. At least, that was the case until a few weeks ago, when
we first learned of an upgraded black KEYone hitting the Indian market
.
At the time, we were hopeful that this fresh KEYone option would soon make its presence felt elsewhere, and that's exactly what we saw today at IFA 2017, as
BlackBerry announced the coming global spread of the new KEYone
.
A New Look
The most obvious shift with this new KEYone, which is going by the appropriate label "Black Edition," is the new coloring. The phone is still made with the same solid-feeling aluminum frame as the original, but this time that matte silver finish has been replaced with a new anodized black exterior. The effect is striking, and almost aggressive looking.
Nearly all the phone's exposed metal gets this new black treatment: the sides and top, obviously, but also the ring around the camera, the BlackBerry logo on the handset's back, and even the horizontal bands between each row of keys on the phone's iconic keyboard.
Even with this heavy overhaul, a hint or two of silver still manages to peek through, in the form of the beveled edge circling each of the phone's three side-mounted buttons.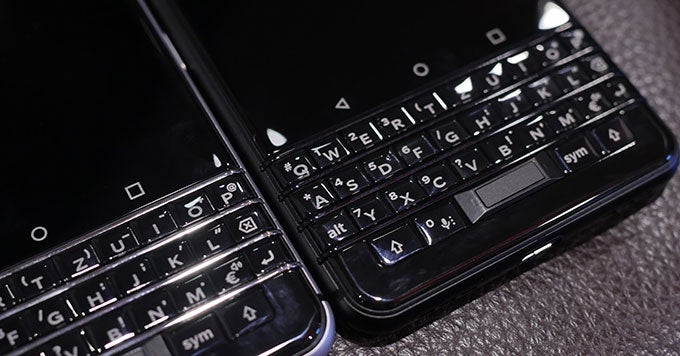 Internal Tweaks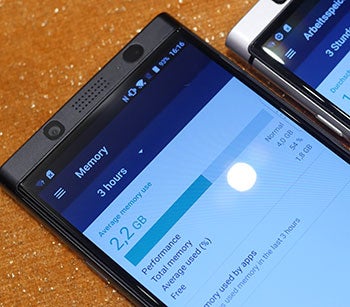 That fresh paint job is just the half of it, and the Black Edition KEYone also gets some upgraded silicon. We're not talking about anything so extreme as a Snapdragon 835 chip or anything, but instead a boost from 3GB of RAM to a slightly more modern-looking 4GB, and increasing the KEYone's storage from 32GB to 64GB. You can still take that even further with microSD expansion, but by starting off with twice the internal storage you might be able to put that purchase off a little longer.
It's easy to take the RAM upgrade for granted, or just dismiss it outright – who really needs an extra gig of RAM when you're running a mid-range Snapdragon 625 chip? But while we haven't been able to thoroughly investigate performance gains for ourselves, our conversations with BlackBerry execs suggest that this Black Edition really can feel slightly faster than the original model, especially for heavier users.
We doubt a lot of shoppers will be picking up the KEYone Black Edition just for the extra RAM, but if you're already coming for the cool new black look and the extra storage, you're not going to turn down a 33% memory boost.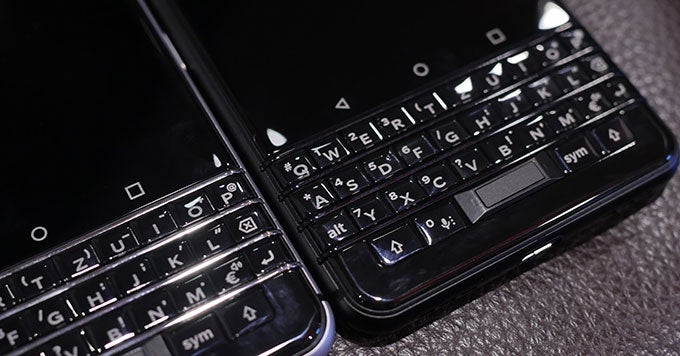 Appearances Can Be Deceiving
The new KEYone Black Edition is set to hit markets around the globe, including Europe, the Middle East, Japan, and BlackBerry's native Canada. You may notice that the United States is conspicuously absent from that list; what gives?
BlackBerry tells us that the priority for the Black Edition was getting it ready in time for the holiday season, and that the phone's new hardware would have required another lengthy approval process with American carriers before they'd give their blessing – delays the company would rather not have to deal with.
That said, though, there is a new black KEY just hitting the US now, after being
announced as an exclusive for AT&T about a week back
. This "Space Black" KEYone looks practically identical to the Black Edition, but with a couple critical differences: it's still got the original 3GB of RAM and 32GB storage.
While it's nice that US shoppers can still scratch that itch for a new KEYone color, we can understand how they might feel disappointed to miss out on the hardware upgrades. At least the hardware's still close by in Canada, should you feel like tracking it down.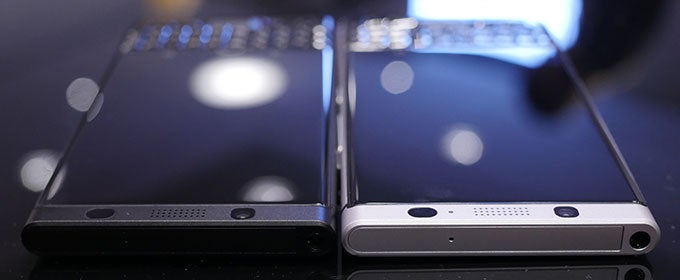 Conclusion
The new KEYone Black Edition doesn't re-invent the wheel, and instead feels like the KEYone version 1.1: a minor upgrade that you might prefer to pick up if given the choice, but not such a revelation that you'll feel compelled to ditch your existing silver model for it.
If you do go about tracking one down, expect to pay a small premium for it, with the Black Edition set to fetch about 650 EUR, instead of the nearly 600 EUR the original model goes for.
What do you think? Is this the KEYone you were waiting for all along? Or are you still not sold on this unique keyboard-equipped Android phone?