BlackBerry Curve 9999 concept takes a literal approach to its design
6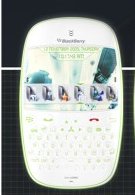 As we see more and more images of the upcoming
BlackBerry Bold 9800 Slider,
it makes some people drool in anticipation of holding the industrial designed looking smartphone. RIM has come a long way in crafting some wonderful looking handsets that are universally praised, but with a
few handsets
, some wonder what designers were thinking. Thankfully there is one concept out there that shows off the softer side of the Curve series of smartphones. The BlackBerry Curve 9999 concept takes a literal approach to its name as it sports a "soft shape" that makes us think about an egg for some odd reason. The white exterior compliments its curved design as it also sports a honeycomb designed QWERTY keyboard doused in the same white paint job and a 5-megapixel camera. In addition, it's questionable whether or not it would pack on a touchscreen, however, the operating system seen running looks to have an airy feel to it as well. Concepts are truly breath taking on paper, but wouldn't it be nice if someone out there decides to make it a reality?
via
GSMDome