BlackBerry CEO John Chen says that there have been no offers for the company
23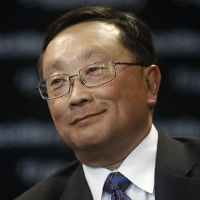 BlackBerry CEO John Chen spoke with Bloomberg's Emily Chang on Monday, and she asked if the executive is planning on selling BlackBerry. It seems like a silly question considering that
Chen just took over the post in November
, and his turnaround plan has just started. Eventually, the CEO might be inclined to sell BlackBerry. After all, that what he did with Sybase after turning around that company. Chen got SAP to purchase Sybase for $5.8 billion in 2010.
Chen says that so far, no offers for BlackBerry have crossed his desk. He did say that it would probably be impossible to sell to a Chinese company considering BlackBerry's installed base in the U.S. government.
As for the odds that he will be able to create value at BlackBerry, Chen gives himself an 80/20 chance of success. He says that he is comfortable where the company is now, although he admits that BlackBerry might never be iconic again.
source:
Bloomberg