BlackBerry 6 multimedia experience gets pictured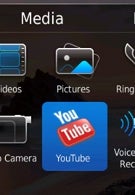 RIM has listened to its customers and has developed a more finger-friendly and multimedia capable OS. Including the new WebKit browser that RIM has come up with, BlackBerry users should no longer feel like third place finishers in a two team potato sack race. When the BlackBerry Storm 9530 was originally launched, many who purchased the phone were stunned when RIM's first touchscreen device failed to offer a separate YouTube client. Now, YouTube videos will be offered in HQ when in Wi-Fi (Android still has everyone beat here as HQ YouTube videos are available on both Wi-Fi and 3G). Videos will be offered in three sizes-Original, Full Screen and Fit to Screen while videos you take can be uploaded directly with the integrated YouTube video uploader. Photos can be organized by event or date and you will be able to "Pinch-to-Zoom" on snapshots. You can also view your pictures as a slideshow with transitions. A new camera UI offers different modes depending on the kind of picture you are taking, such as a low-light mode for a Party, or a faster shutter speed to capture sporting events.
Some other improvements include a built in Podcast player app that will come with the North American version of the OS and is completely mobile. It looks like the new WebKit browser will be part of the new OS and this is one area where RIM has really closed the gap compared to other software. Multiple pages and "Pinch-to-Zoom" capabilities are some of the improvements. The typical pinstriped, buttoned down 'Berry user is going to be very happy with the changes that RIM has made to make the BlackBerry a more well-rounded device.
source:
InsideBlackBerry
via
Crackberry