BlackBerry 10.3.2 update starts to surface
31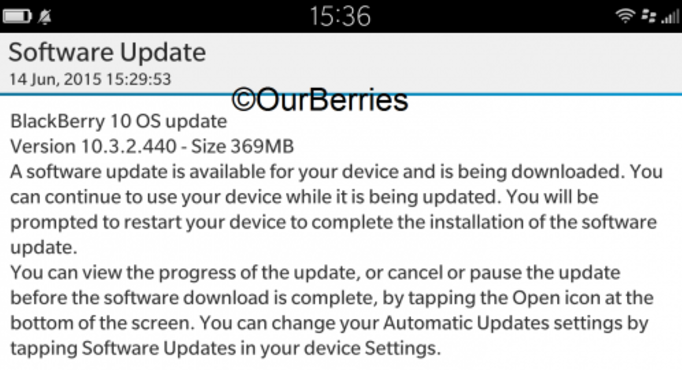 BlackBerry OS 10.3.2 starts rolling out
Earlier this month, we told you that
all BlackBerry 10 models would soon start to receive the BlackBerry OS 10.3.2 update
. Based on images published this morning, it would appear that the latest build of BlackBerry 10 has started rolling out. Weighing in at 369MB, the file contains BlackBerry 10.3.2.440 to be precise, and includes a number of new features and bug fixes.
The update brings enhancements to your Berry's rear camera. With the update, the camera will take better pictures under low-light conditions even when the auto-mode setting is employed. Face detection is improved and you should notice a reduction in blurs caused by motion. The update allows you to specify the events that will activate the Meeting Mode feature that silences your 'Berry during a meeting. You can add events listed on your calendar to the ignore list. And in month view, the calendar will show big and small date numbers depending on how heavy or light your schedule is for a particular date. This tells you at a glance how busy you will be for a particular month.
The BlackBerry OS 10.3.2 update adds a new UI for BlackBerry Blend, making it easier and faster to view the content of your phone over a desktop PC. There is a new spell check feature and the update gives you the ability to directly respond to a pop up notification from Blend. BlackBerry Protect will now allow someone with a lost or stolen BlackBerry to disable the device so that it can't be wiped and re-used. The owner of a lost Berry will be able to write directions on the screen so that someone honest who stumbles across a lost unit, can return it to the rightful owner. And a new feature will allow the owner of a lost or stolen BlackBerry to remotely send a signal to the device that will result in the phone making a loud noise, helping you find it.
It appears that those who purchased their BlackBerry from the company's own
shop.BlackBerry.com
website are getting first crack at BlackBerry 10.3.2. If you bought your 'Berry directly from BlackBerry, keep your eyes peeled for the notification telling you that the OS update is ready to be downloaded and installed on your phone.
source:
OurBerries
via
BerryReview