Black 16GB Google Nexus 5 officially sells out
9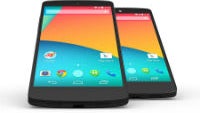 Back when the Google Nexus 5 first launched at the beginning of this month, there were a couple times when the product page switched over to saying that the 16GB black model of the device was "
out of inventory
", but that message eventually disappeared and was replaced with shipping times ranging from 2 to 5 weeks, depending on when you checked.
Well, the Google Nexus 5 has officially sold out this time. The message began showing on the product page for the 16GB black Google Nexus 5 yesterday, and it is still there, so it seems it is real this time around. The last we saw, the 16GB black model of the Nexus 5 was showing a 4-5 week shipping time, and we would guess that Google and LG haven't been able to keep up with demand.
It could also be that supplies are being diverted to cover the release of the carrier-branded Nexus 5 models.
Sprint
just launched the device this past Friday, and
T-Mobile
is planning to start selling the Nexus 5 online on this Thursday, November 14th, and in stores on November 20th. Either way, you'll have to wait if you want to get your order in on Google's latest flagship smartphone.