T-Mobile confirms Nexus 5 release dates and $450 price tag
21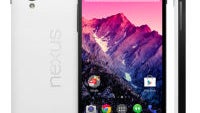 A couple days ago, we saw a leaked plan that set the T-Mobile release date of the Nexus 5 at
November 20th
, the day is also planned as the release date for the Nexus 7 on the carrier. Well, we just got word directly from T-Mobile that does partially confirm the news that we had been hearing, but adds in some other important details including the price tag that you'll find on Google's flagship device.
According to T-Mobile, November 20th is
one of
the release dates for the Nexus 5. That is the day the device will make it to T-Mobile stores; however, if you want to get it a bit earlier, the device will be on sale through T-Mobile's website starting November 14th. Of course, as was the case with the Nexus 4, unless you really need to be on T-Mobile's equipment installment plan, you might be better off buying the Nexus 5 directly from Google and just getting the SIM from T-Mobile.
Directly from Google, the Nexus 5 will set you back just $350 (plus taxes and shipping), but you would have to deal with the delays in shipping because of product shortages. The 16GB models of the Nexus 5 are showing shipping times of 3 to 5 weeks in the Play Store depending on the color you want. So, you'll be able to get the device sooner through T-Mobile, but the 16GB model will end up costing you about $450 ($41.99 down and 24 equal monthly device payments of $17). So, you'll have to decide if getting it sooner is worth the higher price tag.
Of course, it should be noted that we would expect the carrier branded versions of the Nexus 5 to come in at a higher price point than directly through Google. Carriers still need to make money off of devices sold, while Google has no need to generate profits on hardware sales.
Recommended Stories