Initial Nexus 5 stock runs low, shipping dates now show November 8th *Update*
33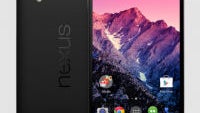 *Update*After posting this, the 16GB black Nexus 5 returned to the store and is now showing the November 8th shipping date, but only the title has been updated from what was originally posted.
It's not a big difference, but it's enough to indicate that the first batch of Nexus 5 devices has probably sold out. When users first jumped into the Play Store when the Nexus 5 launched at 11AM PST (2PM EST) today, the site said that the device would be shipping on November 5th. But, the black 16GB Nexus 5 is now showing as sold out, and the other three variants of the device have shipping dates of November 8th.
Given the massive troubles that surrounded the Nexus 4 launch, today's Nexus 5 release has gone quite well. There were some hiccups early on which made it impossible to use the new product page UI to switch to the white model or change the storage capacity, but aside from that the Play Store has held up to the traffic very well. Unfortunately, the same can't be said about the supply of the Nexus 5.
The 16GB black Nexus 5 is showing as out of stock just 2.5 hours after it launched. Luckily, it does seem that Google and LG have been working hard to meet demand this time, because having just a three day difference in shipping when the initial stock ran out is pretty solid. However, that shipping date will only get farther away from here, so get in fast if you want a Nexus.
*Update #2*16GB black Nexus 5 out of stock again as of 5:45PM EST.