Better safe than sorry: Apple wants iPhone cases to protect from 1-meter drops
38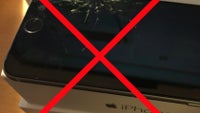 Your iPhone suddenly slips from your palm, headed for a quick and most unfortunate rendezvous with the ground. The shiny gadget collides with it display first, a horrendous crackling sound shakes the air, and you immediately realize that your iPhone's display is no more, not to mention the hideous dents that now surely grace the affected zone of your shiny Apple smartphone. Is there a worse feeling for the average iFan?
Most probably not, and Cupertino is perfectly aware of this. That's why it has recently updated its MFi licensing program, which requires the willing accessory makers for its iDevices to confront to some new guidelines. From now on, those that want, say, the "Made for iPhone" logo to appear on their cases will have to make sure that the latter will completely shield the iPhone from drops of up to 3.2 feet (1 meter), regardless of the device's orientation. That would probably suffice until Apple makes
it phones drop-proof
.
In particular, Apple now specifically requires case makers to make sure that their Apple-certified products protect the display from ground falls. Fortunately for said manufacturers, Cupertino offers them a choice – either make sure that at least 1mm of the case protrudes above the display or cover the latter completely with a built-in screen protector.
Well, if this is not sufficient enough for the more paranoid ones among you, Apple fans, you can always resort to one of the
ultra-protective rugged cases
(you can check out the more notable ones in the gallery below) to protect your valuable iPhone 6 or 6 Plus, but be advised - even those are not entirely bend-proof.
Looking for case for your Apple iPhone 6/iPhone 6 Plus? Feel free to check out these:
source:
9to5Mac
via
GSMArena