Best selfies: 30 funny, historic, embarrassing or adventurous snaps
17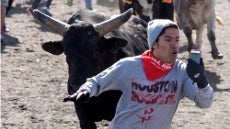 After the brouhaha with the
Note 3 selfie at the Oscars
, which was retweeted a record number of times, prompting
Samsung to donate as many dollars to Ellen DeGeneres' favorite charities
, we couldn't help it but compile a list of some more selfies.
These might not feature Angelina Jolie and Kevin Spacey in the frame, yet are no less interesting to see, be it only for their entertainment value (and who
looks for photographic quality in selfies
anyway).
They range from the funny, through the bizarre and embarrassing, to the extreme, and are a tribute to the selfie phenomenon that exploded with the arrival of smartphones in every hand. Mankind has certainly developed a lot since the first known self-portrait taken with a camera by the American photographer Robert Cornelius in 1839, or even the first use of the word "selfie" to describe this type of pics. Check'em out below, and contribute, as this is by no means an exhaustive list.