Best rugged armor cases for the LG G5
8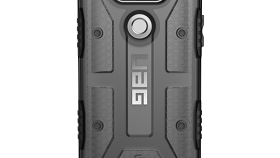 We know the drill: you've recently got yourself an LG G5 and are now looking for the best rugged armor cases to help protect your shiny new handset. If that's the case, then you've landed on the right Phone Arena post!
The LG G5, the first commercial smartphone from a big brand to adopt the modularity principle, is not your common handset. Modular as the LG G5 may be, however, there's no G5 Friend that can help protect the handset against drops. As such, it's probably a good idea to invest in a rugged armor LG G5 case to ensure that your handset survives the occasional slips.
If an exceptional rugged armor case for the LG G5 that can be purchased in the US has slipped under our radar, drop us a hint in the comment section below!
Urban Armor LG G5 Case Series
Urban Armor Gear makes some of the most amazing rugged armor cases around and the LG G5 model is going to be our first recommendation for today.
The UAG LG G5 case is made out of a shock-absorbing core and a hard armor shell, a combination that's durable enough to meet military drop test standards. The scratch resistant skid pads add another layer of protection.
One notable UAG signature is the inclusion of oversized buttons that are covered in a rubbery material which significantly enhances grip.
Lifeproof Fre
If you want extreme protection, check out the Lifeproof Fre case for the LG G5. This case offers heavy-duty protection by protecting your handset against water, dirt, snow, as well as drops.

Slide your G5 into a Lifeproof Fre case and it can survive dives in up to 6.6 meters of water for up to 1 hour, walks through all the dust you can find, as well as drops from up to 6.6 meters. How's that for ruggedness?

On the downside, the Lifeproof Fre case costs $79.99, which is a lot by case standards.


OtterBox Defender Series
If you own an LG G5 and need a case that goes all-in on protection, check out the OtterBox Defender series, the norm for rugged armor cases.
For the ultimate drop protection, this case integrates three different layers: a hard polycarbonate shell, a rubber exterior slipcover, and a screen protector.

Aimed to offer advanced protection for the LG G5 even in hostile work environments, the Otterbox Defender series includes a holster that can act as either a belt clip or a kickstand.
If you're often taking advantage of the G5's 5.5-inch IPS display for video content consumption, then a rugged armor case with a built-in kickstand might hit the nail straight on its head.

One very popular contented in this sub-category of rugged cases is the Supacase Unicorn Beetle. The case is made out of a front casing with a built-in screen protector and a back cover made out of a hybrid material. The port covers also add a certain degree of dust and debris resistance, although this isn't certified.
Spigen Resilient Ultimate
Most cases on this list are a bit on the bulky side and some even take this to the extreme. One slimmer alternative to every rugged LG G5 case listed here is the Spigen Rugged Armor case.

In its attempt to maintain a slim profile, the LG G5 Rugged Armor case is made out of a single layer of TPU. This material offers shock absorption and its carbon fiber texture allows a good grip of the phone. The glossy accents on the back are subjectively good-looking but they're only there for aesthetic purposes.

Unfortunately, Spigen says that its Rugged Armor case for the LG G5 only protects the phone against small drops. Look elsewhere for advanced protection but no further for an acceptable middle ground between armor and basic cases.