Best of IFA 2018: It's awards time at Messe Berlin!
11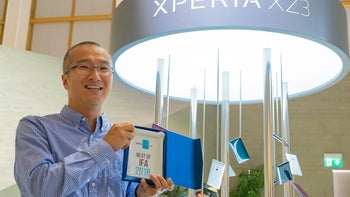 Just like the passing summer, the major IFA trade show traditionally held in Berlin, Germany, is about to close its doors for nearly a full year. Just like you might expect, tons of new high-tech innovations were demonstrated on the vast and colorful floors across all the Messe Berlin's halls, giving us a very good sneak peek at what the not-so-distant technological future has in store for us.
Unlike previous years, however, the still ongoing IFA expo is a bit light on new smartphone announcements as most of the key players tend to stay away from such shows in order to garner more media attention at a separate event. However, a few very interesting devices made an official appearance still, and a few very important ones were also present at the respective booths.
Just like every other year, with the IFA spectacle nearly drawing to an end, it's time for a healthy recap highlighting the highs of the trade show. Of course, we had a few awards on our hands, and they were rather quick to find new homes.

BEST OF IFA 2018
Sony Xperia XZ3
Sony's latest smartphone advancements didn't go unnoticed by us. Without the shadow of a doubt, the
Xperia XZ3
was the most exciting high-profile phone announced at IFA '18, and for a ton of good reasons.
For all intents and purposes, it's the crown jewel of the Xperia lineup's evolution thus far, combining a very sleek and stylish design with a very advanced hardware setup. It's Sony's first device with an OLED display, which has allowed for way more "play" in the design department. It's also one of the very few devices that can shoot 4K HDR videos. Under the hood, the phone has only the high-end specs listed, making up for a worthy flagship device.
The Xperia XZ3 was a solid reason to award Sony with the
"Best of IFA 2018"
award, and rightfully so.
Samsung Galaxy Note 9
Although it wasn't technically announced at IFA 2018, the
Galaxy Note 9
was fresh and interesting enough to earn Samsung yet another in a long line of awards.
The high-profile productivity handset is as decked out as they come, full to the brim with features and functionalities that will be very highly valued by those who are willing to only get the best. The Note 9 certainly has the convincing package to earn our recommendation, and while it's true that it's more evolutionary than revolutionary, we shouldn't forget that it's improving on one of last year's very best devices.
We couldn't help it, and our second
"Best of IFA 2018"
award goes to Samsung for its impressive Note 9.
Honorable mentions
Of course, we can't give awards to everyone, but we felt we could highlight a few honorable mentions as well.
LG G7 One
It turns out that having a pure Android experience instead of the LG skin is actually not bad at all and the device has a very nice design with a back cover that feels smooth and polished, and reminds us of the feeling you get from the touchpad on a Macbook. That's right, the G7 One feels and looks like a clear win!
ZTE Axon 9 Pro
To further show that it is ready to evolve as a company and a business entity, ZTE unraveled its brand new flagship device at the major trade show, the ZTE
Axon 9 Pro
, which feels like a step in the right direction, a device that ZTE really needed to add to its portfolio at this exact moment.
Fitbit Charge 3
The Charge is the most popular
fitness tracker
that Fitbit makes and today, for the first time, we got to see its newest edition: the Charge 3, a sleek and stylish fitness tracker that you can wear at the gym or even pair up with a leather band and wear at office meetings.