Sony Xperia XZ3 hands-on: refining the premium formula
18
Announced earlier this year, the
Sony Xperia XZ2
marked a new chapter for Sony with its launch. It wasn't just another flagship phone. It was a radically redesigned Xperia handset – one that abandoned the flat, boxy looks in favour of flowing curves and uninterrupted lines. The newly introduced
Sony Xperia XZ3
builds on top of these modern design principles while also introducing meaningful hardware upgrades – a large OLED display and a new selfie camera, to name a few – all while addressing several of the complaints we had about the Xperia XZ2 in our in-depth review. But ultimately, is this going to be enough to make the XZ3 a worthy contender in the high-end space? We spent some time with it to find out.
Look at those curves!
As soon as we picked up the Sony Xperia XZ3, our attention was drawn to the curved sides of its display. Of course, this design feature is nothing new in the industry – the curvy Samsung Galaxy S6 edge had its 3rd birthday this spring – but it is the first time we see Sony implementing it, and the Xperia XZ3 looks quite fancy as a result.
The phone's stylish appearance is further complemented by shiny layers of Gorilla Glass 5 on the front and the back, as well as by a 3mm frame made of 7000-series aluminum. Water resistance is present, but a 3.5mm audio jack is not.
Another trait that made a lasting impression on us was its size. The Sony Xperia XZ3 is one big phone. This is largely due to the fact that Sony has kept the stereo front-facing speakers, which has resulted in the presence of prominent bezels above and below the display. But the XZ3 is within the same size category with rivals like the Galaxy S9+ and the LG G7.
The placement of the fingerprint reader is a peculiarity we wish Sony had reconsidered. As on the Xperia XZ2, it is placed too low on the back, so we can't quite reach it without gripping the phone in some unnatural manner. One can surely get used to this placement over time, but we'd much rather have technology adapt to us than it being the other way around.
The first OLED screen on a Sony phone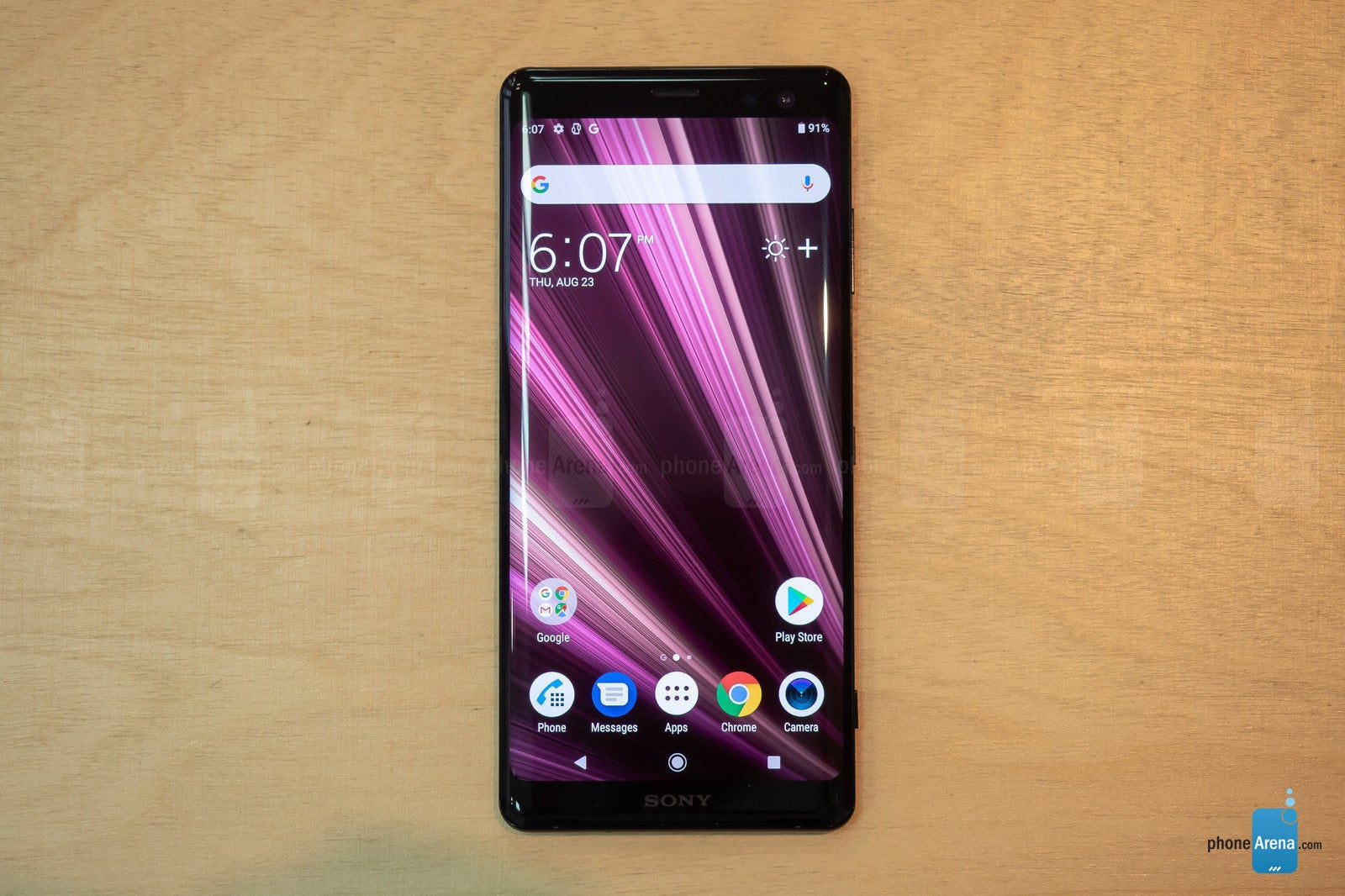 Without a doubt, the large, 6-inch screen with a resolution of 1440 by 2880 pixels is going to be a key selling point for the Sony Xperia XZ3. We have an OLED display for the first time on a Sony smartphone, and it looks impressive, just as you'd expect – with deep blacks and great contrast. And no, there is no notch on this one – another differentiating factor that could draw some potential buyers. The screen displays HDR content without issues, with services like YouTube and Netflix on the compatibility list.
Android 9 Pie out of the box
Sony is launching the Xperia XZ3 with Android 9 Pie out of the box, and on top of it is the company's clean, clutter-free interface. However, we aren't sure which of Pie's key new features will be adopted. For instance, the new OS comes with a gesture-based interface, but our demo XZ3 unit had the classic trio of navigation keys. We'll update you on the matter as soon as we learn more.
UPDATE:
We were told that the Android Pie gesture UI isn't coming to the XZ3, even as an option that you can enable. However, the phone
is
getting Android 9's AI-powered energy management and screen brightness microadjustments, as well as the screen rotation suggestion feature.
Sony is also adding a new feature called Side Sense. In a nutshell, it makes the curved edge of the display act as a touch-sensitive shortcut. Tapping an edge twice will display a list of apps that you may be interested in using next – the list of apps being compiled by AI algorithms that monitor your usage patterns. A swipe can be used in the Chrome web browser to go back one page or to skip a song in the music player. Side Sense can be turned off, in case you're not a fan.
Also, Sony has taken advantage of the OLED panel by introducing a proper Always-on Display feature on the Xperia XZ3. When the phone is in stand-by mode, it shows the stuff you'd expect, including the current time and pending notifications. But the area can be further personalized with graphics and images.
The most processing power you can get
This wouldn't have been a proper flagship device without some top-tier silicon inside of it. The Sony Xperia XZ3 comes with a Snapdragon 845 SoC, just like most Android flagships right now. The chip is backed by 4GB of RAM and 64GB of storage, which should do for many users, but if you find yourself recording 4K video often, that space will run out pretty quickly. For those who need extra gigs, the phone offers a microSD card slot.
Camera upgrades and refinements
We're not going to spend much time talking about the XZ3's MotionEye main cam because it is identical to the one on the XZ2. On a hardware level, we're dealing with a 19MP image sensor 1/2.3" in size, with F2.0 aperture and 5-axis electronic stabilization, but still no OIS. What's new, however, is the software driving it. The layout of Sony's camera app has gone through a complete overhaul meant to make it simpler, less cluttered and faster to use. Advanced features such as HDR video recording, 960fps slow-mos, and full manual controls are still available for those who need them.
Furthermore, Sony has given the Xperia XZ3 the ability to detect if you're about to take a picture before the phone is even on. Taking the phone out of your pocket and holding it horizontally, as if you're about to frame a photo, displays the camera viewfinder automatically and begins buffering stills in memory. We're not sure if this approach would be quicker or more practical in real life than simply using the dedicated camera button to launch the camera, but we'll find out soon enough.
Thankfully, Sony has replaced the unimpressive 5MP camera from the Xperia XZ2 with a 13MP, F1.9 selfie shooter. We have high hopes for this one, as the XZ2's low-light performance was underwhelming, and having a good selfie cam is becoming more and more important for more and more people.
Sound and multimedia
As we mentioned earlier, the Sony Xperia XZ3 comes with dual front-firing stereo speakers, boasting a pair 20% bigger than that on the XZ2. Unlike other stereo phones like the
Galaxy S9
and the
iPhone X
, where the two speakers cover different ranges of the audio spectrum, Sony is sticking with balanced stereo sound by providing two identical left and right speakers. To augment your multimedia experience, Sony is also keeping the Dynamic Vibration feature, where a larger-than-normal vibration motor shakes to the beat of the music.
Battery life
3330mAh – this is the charge capacity that the Sony Xperia XZ3 can hold. It doesn't sound like much for a 6-inch phone, but given Sony's traditionally good software optimizations and the power-saving potential of OLED panels, the XZ3 isn't expected to disappoint when it comes to battery life. Rapid charging via the USB Power Delivery standard is supported, and so is Qi wireless charging.
Expectations
The Sony Xperia XZ3 is shaping up as a solid high-end Android phone – and perhaps a worthy alternative to the popular Android flagships of today. The refined looks give it a modern appearance, the potent hardware can deliver flagship-level performance, and a capable set of cameras completes this undoubtedly premium package. No less importantly, a great new screen that passes on the notch trend is at the centerpiece of Sony's latest and greatest. Sounds like a recipe for success, doesn't it?
Alas, Sony's smartphone business isn't doing so well right now, and the Sony Xperia XZ3 would have a hard time turning things around. It will be facing stiff competition in an already saturated market when it is released in the US this October. Priced at $900 and without any presence among US carriers, it can be a pretty tough sell, especially if Sony doesn't put enough effort in making people aware of its latest flagship's existence.