LG G7 One hands-on preview: LG's first Android One phone is fast and looks good
22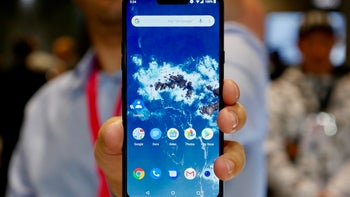 LG has just unveiled two new phones to complement its flagship and they are both cheaper and slightly less powerful: the
LG G7 One
is based on Android One, Google's program to fast-track Android updates and ensure you get a clean, stock Android experience, and the
LG G7 Fit
is even more affordable and runs the much older Snapdragon 821 chip.
We got to spend some time with both phones at IFA 2018 and the LG G7 One in particular stood out: it turns out that having a pure Android experience instead of the LG skin is actually not bad at all and the device has a very nice design with a back cover that feels smooth and polished, and reminds us of the feeling you get from the touchpad on a Macbook.
Before we get into more detail, though, let's quickly go over the the
LG G7 One
...
Key Highlights:
6.03 x 2.83 x 0.31 inches (153.2 x 71.9 x 7.9 mm), 156g weight
6.1-inch LCD display with Quad HD+ resolution, 19.5:9 aspect ratio
Qualcomm Snapdragon 835 with 4GB RAM
32GB storage + microSD
16MP f/1.6 single rear camera, 8MP front camera
3,000mAh battery
IP68 water protection
So here's the quick specs breakdown: you have last year's Snapdragon 835 on board with 4 gigs of RAM, which sounds a lot like an upper mid-range phone these days. The bigger compromise is that the G7 One only comes with 32 gigs of on-board storage, a number that will likely start bothering you after a couple of months when you fill up the phone with music, photos and videos. Thankfully, there is a microSD card support, so we recommend that you get one for this phone.
Software: LG's first Android One phone
8.1
Oreo on board and only the apps that you need are pre-loaded, so you don't have to deal with bloatware. And without a heavy skin, the Android experience here is smooth and speedy. On the left side of the phone is an extra physical button that you tap to quickly open
Google Assistant
and we're thankful LG does not force an inferior voice assistant of its own on us.
One thing missing on the G7 One, however, is the dual camera from the flagship G7. You only have a single rear camera on this phone, so no super wide-angle shots are possible. The camera is a 16-megapixel one and the app comes with built-in Google Lens support, the service that allows you to point the camera at an object and you get useful information about this object. Google Lens still doesn't quite feel like a useful feature in our experience, as even with the provided demos by LG, it often took a couple of attempts to recognize some of the world's most iconic buildings.
Amplified Audio
What this G7 One shares with the original G7 is the audio experience. The large, all-screen sound chamber on the G7 is here on the G7 One as well, so you get a very powerful sound IF you place the phone on a flat surface that can vibrate and resonate with the sound waves. And yes, you still have a headphone jack and a 32-bit HiFi DAC for audio enthusiasts.
Final words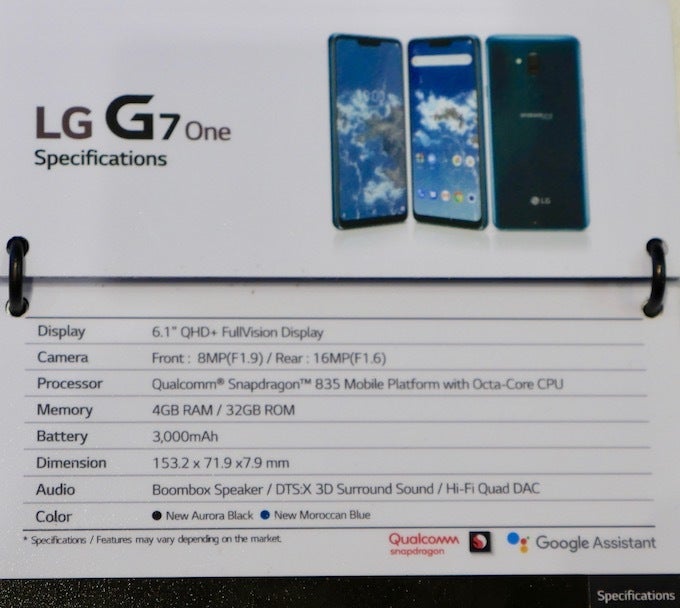 Overall, the LG G7 One, despite cutting some corners, is a device that we enjoyed using. It's speedy, it has a stylish design, it's well built and the interface is clean of bloatware. LG does not give any price or availability details just yet, but those will be coming soon.
So... how do you like LG's first Android One phone? Do you prefer it over the LG G7? Let us know your thoughts in the comments section below.